During summer 1963, a production Avanti is again sent to Bonneville where, with the support of Sears-Allstate, it breaks no less than 337 speed records. Still battling production problems, Studebaker unfortunately do not sell as many Avantis as it could. Finally, the promising car's career is interrupted in December 1963, as Studebaker's production is transferred from South Bend to Canada.
Studebaker Avanti
With limited resources, Studebaker has succeeded in presenting a brand new car, its first in ten years. A wedge-shaped coupe made of fibreglass, it has been designed by Raymond Loewy. This year's car is identical to the one seen in 1963, though the round headlight covers are replaced by square chrome housings shortly after the model year has started. Late during the year, a larger 5.0-litre block is made available, again with an optional compressor.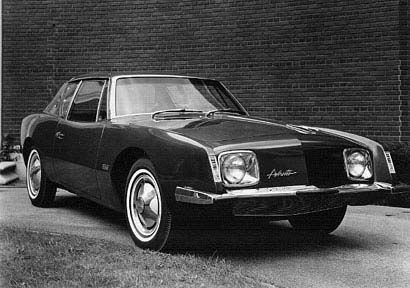 ● Introduction: April 1962. Construction: body on separate chassis. Engine: water-cooled V-8, 4.7-litre, 240 hp, mounted at the front. Optional engines: supercharged V-8, 4.7-litre, 289 hp; V-8, 5.0-litre, 280 hp and supercharged V-8, 5.0-litre, 335 hp (5.0-litre engines available from late 1963). Transmission: to the rear wheels through a three-speed manual gearbox. Four-speed manual and three-speed automatic gearboxes optional. Suspension: independent at the front, rigid axle at the rear. Brakes: hydraulic, to disk on front wheels, drums on rear wheels. Servo optional. Length: 488 cm. Top speed: 225 kph. Range: two-door sport coupe.
Any mistake you've just spotted? A detail to add? A suggestion? Don't hesitate to leave a comment!
Click to jump to another model year of the same car:
1962
– 1963
– 1964
Click here to return to a list of all
Studebaker
vehicles presented on this blog.
Click here to return to this blog's
initial post
, featuring a list of all brands already presented.