The Smyk B30 answers the Polish authorities' wish for a tiny popular automobile. A little pre-series of seventeen cars is constructed by the manufacturer of the new Junak motorcycle, Szczecińska Fabryka Motocykli (SFM), in its Szczecin factory. Nevertheless, series production does not occur as the Warsaw government finally prefers to the Smyk the more conventional Mikrus microcar.
Smyk B30
Designed to carry two adults and two children, the Smyk follows the trend established by the Isetta by adopting a single front door, curiously and extremely inconveniently articulated at its bottom. Because of this forward entrance its engine, a four-stroke 350cc borrowed from the Junak motorcycle, has to be mounted at the rear under a long deck, but no provision has been made for a luggage compartment.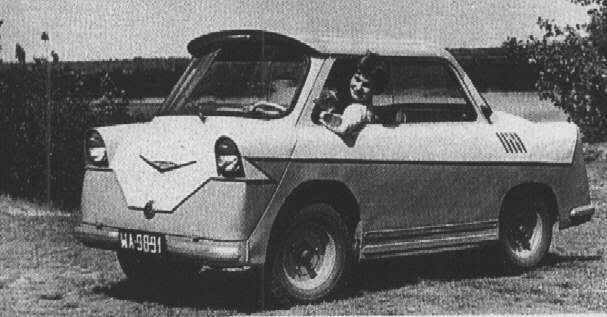 ● Introduction: 1957. Construction: body on separate chassis. Engine: air-cooled single-cylinder, 0.35-litre, 15 hp, mounted at the rear. Transmission: to the rear wheels through a four-speed manual gearbox. Suspension: independent on all four wheels. Brakes: hydraulic, to drums on all four wheels. Length: 295 cm. Top speed: 70 kph Range: front-door saloon.
Any mistake you've just spotted? A detail to add? A suggestion? Don't hesitate to leave a comment!
Click to jump to another model year of the same car:
1957
–
1958
Click here to return to a list of all
Smyk
vehicles presented on this blog.
Click here to return to this blog's
initial post
, featuring a list of all brands already presented.