Ford introduces two new versions of its Thunderbird this year: the "Landau" hardtop coupe, which features a vinyl-covered roof with simulated landau bars; and the spectacular "Sports Roadster", with a removable fibreglass tonneau covering the rear seats to give to the car the look of a two-seater, and wire wheels. A three-carb 340 bhp engine is optional.
Ford Thunderbird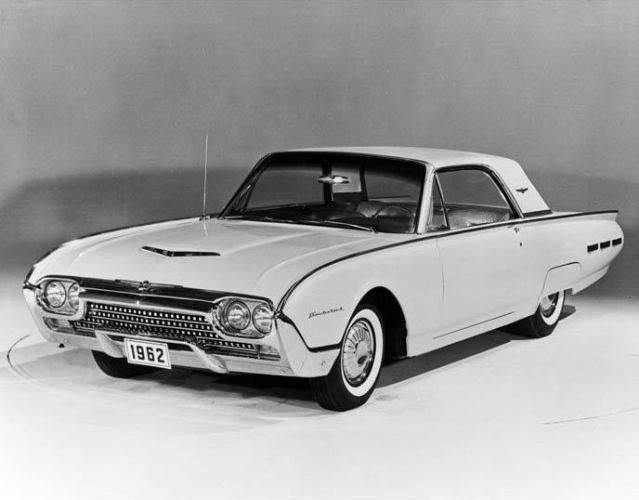 ● Introduction: November 1960. Construction: unibody. Engine: water-cooled V-8, 6.4-litre, 300 hp, mounted at the front. Optional engine: V-8, 6.4-litre, 340 hp. Transmission: to the rear wheels through a three-speed automatic gearbox. Suspension: independent at the front, rigid axle at the rear. Brakes: hydraulic, to drums on all four wheels, with servo. Length: 521 cm. Top speed: 200 to 210 kph. Range: two-door hardtop coupe,
two-door
"
Landau
"
hardtop coupe,
two-door
"
Sports Roadster
"
convertible coupe,
two-door convertible coupe.
Any mistake you've just spotted? A detail to add? A suggestion? Don't hesitate to leave a comment!
Click to jump to another model year of the same car:
1961
–
1962
– 1963
Click here to return to a list of all
Ford U.S.
vehicles presented on this blog.
Click here to return to this blog's
initial post
, featuring a list of all vehicles already presented.