For its second year in existence, Mercury only proposes minor modifications to its car, which now enters in its "09A" series. Nevertheless a new variant is unveiled, the Mercury Eight convertible sedan, but four-door open cars, whichever their manufacturers can be, only meet confidential success in 1940.
Mercury's 1940 range includes a single line: Mercury Eight.
Mercury Eight
After a promising first season on the market, the new Mercury returns almost unchanged, apart perhaps for its new headlights and the switch from a floor-mounted gear lever to a new control on the steering column (dubbed the "Finger-Tip Gearshift") following Detroit's present trend. Mercury's range is also extended by the addition of a new body style, the production of the convertible sedan being transferred from Ford to its new middle-price brand. A convenient device now added to the Mercury convertible coupe is a power top which allows its passengers to enjoy the sun or protect themselves from the rain through a simple switch mounted on the dashboard.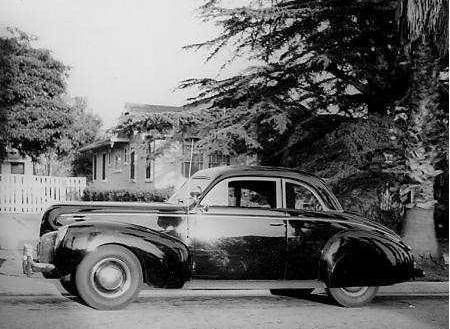 ●
Introduction:
November 1938.
Construction:
body on separate chassis.
Engine:
water-cooled V-8, 3.9-litre, 95 hp, mounted at the front.
Transmission:
to the rear wheels through a three-speed manual gearbox.
Suspension:
rigid axles at the front and the rear.
Brakes:
hydraulic, to drums on all four wheels.
Length:
498 cm.
Top speed:
n/a.
Range:
two-door sedan-coupe, two-door sedan, four-door town sedan, two-door club convertible, four-door convertible sedan.
Any mistake you've just spotted? A detail to add? A suggestion? Don't hesitate to leave a comment!
Click to jump to another model year of the same car:
1939
–
1940
Click here to return to a list of all
Mercury
vehicles presented on this blog.
Click here to return to this blog's
initial post
, featuring a list of all vehicles already presented.