After a hiatus three years and a half long, Mercury resumes production on November 1, 1945. Nevertheless, the difficulties encountered as the United States return to civil life will postpone the real commercial debut of the company to February 1946.
Another major event takes place on October 22, 1945: the creation of the Lincoln-Mercury division of the Ford Motor Company. From now on, the two most expensive brands of the group will share the same network of dealerships and, more significantly, Mercury will be tempted to identify its products as junior Lincolns rather than upgraded Fords. But at this point, Mercurys indeed remain fancy Fords, as the only model the company can offer right now is a slightly modified version of its 1942 car.
Mercury's 1946 range includes a single line: Mercury Eight.
Mercury Eight
As most of its competitors do, Mercury only proposes as its first postwar models the reheated 1942 cars. The ungainly front end has been improved by the addition of four vertical chromed bars flanking the word "Eight" written vertically, that split the upper part of the grille in two halves. The V-8 engine is unchanged but the poor "Liquamatic" automatic clutch is unsurprisingly discarded. The range is made up of the very same body styles as in 1942, but those are soon joined by a Sportsman convertible, Mercury's equivalent to Ford's homonymous car, sporting genuine wood on its flanks - not a simple decoration, as its elements of maple inserted with mahogany panels form the side structure of the car. Unreasonably expensive, the Sportsman features very luxurious appointments, including the first power windows ever fitted to a Mercury.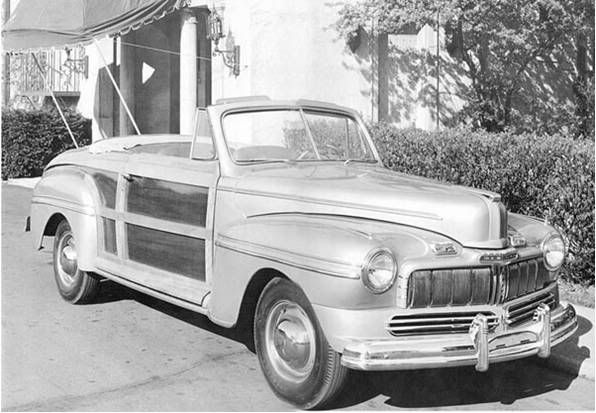 ●
Introduction:
Late 1940.
Construction:
body on separate chassis.
Engine:
water-cooled V-8, 3.9-litre, 100 hp, mounted at the front.
Transmission:
to the rear wheels through a three-speed manual gearbox.
Suspension:
rigid axles at the front and the rear.
Brakes:
hydraulic, to drums on all four wheels.
Length:
513 cm.
Top speed:
n/a.
Range:
two-door business coupe, two-door sedan-coupe, two-door sedan, four-door town sedan, two-door club convertible, two-door "Sportsman" convertible coupe, four-door station wagon.
Any mistake you've just spotted? A detail to add? A suggestion? Don't hesitate to leave a comment!
Click to jump to another model year of the same car:
1941
– 1942
– 1946
– 1947
– 1948
Click here to return to a list of all
Mercury
vehicles presented on this blog.
Click here to return to this blog's
initial post
, featuring a list of all vehicles already presented.