With a demand much higher than offer, Mercury never produce enough cars... and doesn't feel any need to alter its present design, apart from minor details.
Mercury's 1947 range includes a single line: Mercury Eight.
Mercury Eight
The 1947 Mercurys are virtually unchanged from 1946. Main differences are the new, more elaborate bumper; the frame around the grille, that is chromed instead of painted; and the "Mercury" and "Eight" scripts on the grille, which are on black background now, versus a red one last year. Selling poorly, the Sportsman convertible is no longer part of the range, though the equivalent Ford model is still in production.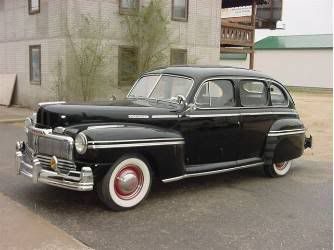 ●
Introduction:
Late 1940.
Construction:
body on separate chassis.
Engine:
water-cooled V-8, 3.9-litre, 100 hp, mounted at the front.
Transmission:
to the rear wheels through a three-speed manual gearbox.
Suspension:
rigid axles at the front and the rear.
Brakes:
hydraulic, to drums on all four wheels.
Length:
513 cm.
Top speed:
n/a.
Range:
two-door business coupe, two-door sedan-coupe, two-door sedan, four-door town sedan, two-door club convertible, four-door station wagon.
Any mistake you've just spotted? A detail to add? A suggestion? Don't hesitate to leave a comment!
Click to jump to another model year of the same car:
1941
– 1942
– 1946
– 1947
– 1948
Click here to return to a list of all
Mercury
vehicles presented on this blog.
Click here to return to this blog's
initial post
, featuring a list of all vehicles already presented.