The new "bathtub" style that graces the Mercurys is a commercial success - more than 200,000 cars are sold during 1949. Unfortunately, it will not remain fashionable for long. Though the Ford Corporation has the finantial means to react by renewing its cars, some independent manufacturers having adopted the same style will suffer from their choice - Hudson, Packard or Kaiser-Frazer were among them.
Mercury's 1949 range includes a single line: Mercury Eight.
Mercury Eight
Introduced early during 1948 as a 1949 model, the new Mercury obviously remains unchanged. During its very first months on the market, the public has extremely well received the new design, which mixes Lincoln's "inverted bathtub" bodies with a more conventional front end.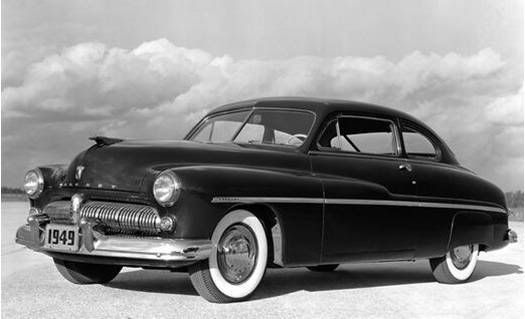 ●
Introduction:
April 1948.
Construction:
body on separate chassis.
Engine:
water-cooled V-8, 4.2-litre, 110 hp, mounted at the front.
Transmission:
to the rear wheels through a three-speed manual gearbox.
Suspension:
independent at the front, solid axle at the rear.
Brakes:
hydraulic, to drums on all four wheels.
Length:
525 cm (all models except wagon), 542 cm (station wagon).
Top speed:
160 kph.
Range:
two-door coupe, four-door sport sedan, two-door convertible, two-door station wagon.
Any mistake you've just spotted? A detail to add? A suggestion? Don't hesitate to leave a comment!
Click to jump to another model year of the same car:
1948
– 1949
– 1950
– 1951
Click here to return to a list of all
Mercury
vehicles presented on this blog.
Click here to return to this blog's
initial post
, featuring a list of all vehicles already presented.