With roots reaching as far back in past as 1856, when British immigrant James Alexander Holden established himself as a saddle-maker in Adelaide, Holden ventured into coachbuilding in 1910. Severely hit by the depression that followed the 1929 Wall Street crash, the company was taken over two years later by General Motors, which allowed the American giant to turn the Australian embargo imposed on the import of complete vehicles.
After assembling cars designed in Detroit for many years, in November 1944 Holden's active president Lawrence Hartnett has gained permission from GM's management to start planning for a purely local car. Finally, the protracted dream of a mass-produced Australian automobile becomes reality on October 1, 1948, when the very first Holden 48-215 leaves the assembly line. The official launch takes place at Fishermens Bend on November 29, graced by the presence of Prime Minister Ben Chifley and 1,200 guests. The public response to the new car is so enthusiastic that waiting lists have to be drawn, while Holden should easily fulfil its goal of producing 20,000 copies of the 48-215 every year.

Holden 48-215
The very first Australian-made automobile is now on the market, though it is actually based on an American design that has been shelved shortly after the end of the war. It is a rugged and simple vehicle, devoid of any refinement, but well suited for the task of coping with the hard local conditions.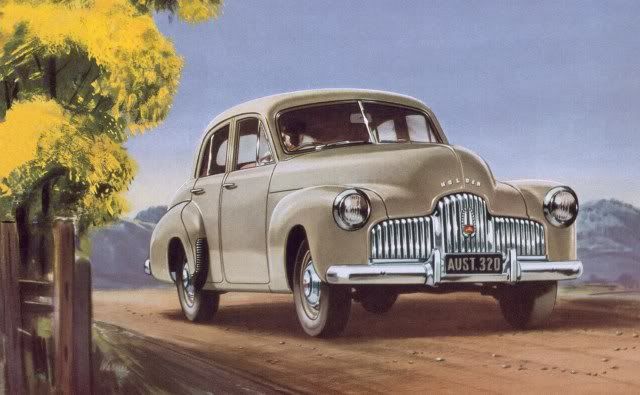 ● Introduction: November 1948. Construction: unibody. Engine: water-cooled inline six, 2.2-litre, 60 hp, mounted at the front. Transmission: to the rear wheels through a three-speed manual gearbox. Suspension: independent at the front, rigid axle at the rear. Brakes: hydraulic, to drums on all four wheels. Length: 437 cm. Top speed: 130 kph. Range: four-door sedan.
Any mistake you've just spotted? A detail to add? A suggestion? Don't hesitate to leave a comment!
Click to jump to another model year of the same car:
1949
– 1950
– 1951
– 1952
– 1953
– 1954
–
1955
–
1956
Click here to return to a list of all
Holden
vehicles presented on this blog.
Click here to return to this blog's
initial post
, featuring a list of all vehicles already presented.