Despite a limited production traditionally sold mostly on its domestic market and a few neighbouring countries, Tatra has built itself a huge reputation for unconventional but brilliant automobiles. Its T87 and its smaller and younger sibling, the recent Tatraplan, proudly respect this tradition. Despite this, the Kopřivnice manufacturer's future is uncertain as the communist regime would like to force it to abandon its production of fine cars to concentrate on trucks, its other specialty.
Tatra T600 Tatraplan
Developed from the T107 prototypes, themselves evolved from the pre-war T97, the new Tatra has been named "Tatraplan" by its manufacturer, an allusion to both its aeronautical inspiration and the five-year plan in force in now-communist Czechoslovakia. As most of its predecessors, it is clearly the product of Hans Lewinka's unconventional mind… though the brilliant engineer is actually jailed by the Prague authorities, its former colleagues remain faithful to its legacy. Hence the choice for the Tatraplan of a monocoque structure, an all-independent suspension with torsion bars at the rear, a rear overhead valve engine and an extremely streamlined body.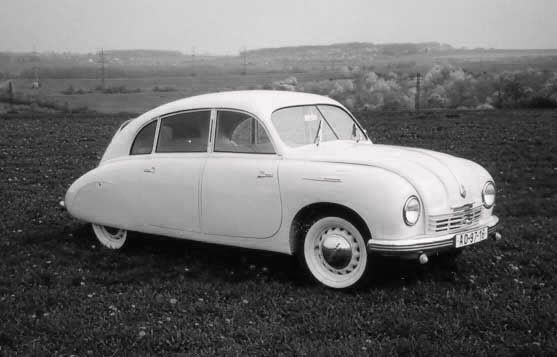 ● Introduction: October 1947. Construction: unibody. Engine: air-cooled flat four, 2.0-litre, 52 hp, mounted at the rear. Transmission: to the rear wheels through a four-speed manual gearbox. Suspension: independent on all four wheels. Brakes: hydraulic, to drums on all four wheels. Length: 454 cm. Top speed: 130 kph. Range: four-door saloon.
Any mistake you've just spotted? A detail to add? A suggestion? Don't hesitate to leave a comment!
Click to jump to another model year of the same car:
1948
– 1949
–
1950
– 1951
– 1952
Click here to return to a list of all
Tatra
vehicles presented on this blog.
Click here to return to this blog's
initial post
, featuring a list of all vehicles already presented.