A bad omen, the single 1961 DeSoto series, based on last year's Fireflite, does not even bear a name - and, indeed, it disappears after only one month and a half on the market, on November 30, 1960. Remaining orders on hand are fulfilled by providing Chrysler Windsors to the customers. True enough, the few last DeSotos are close to Chryslers, with their not-so-subtle front end featuring slanted quad headlights and horizontally-split double grille.
DeSoto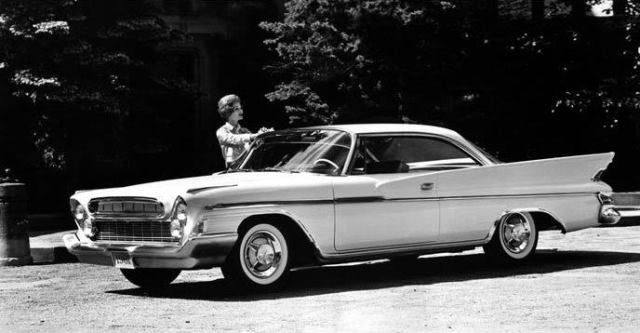 ● Introduction: 1959. Construction: unibody. Engine: water-cooled V-8, 5.9-litre, 265 hp, mounted at the front. Transmission: to the rear wheels through a three-speed manual gearbox. Three-speed automatic gearbox optional. Suspension: independent at the front, rigid axle at the rear. Brakes: hydraulic, to drums on all four wheels. Servo optional. Length: 548 cm. Top speed: n/a. Range: two-door hardtop coupe, four-door hardtop sedan.
Any mistake you've just spotted? A detail to add? A suggestion? Don't hesitate to leave a comment!
Click to jump to another model year of the same car:
1960
–
1961
Click here to return to a list of all
DeSoto
vehicles presented on this blog.
Click here to return to this blog's
initial post
, featuring a list of all brands already presented.