The South Korean government having announced a plan to promote the development of a local automotive industry, the old company National Motors, founded in 1937, changes its name to Saenara Motors in November 1962 and immediately secures an agreement from Nissan to assemble its Bluebird P310 model, sent from Japan in SKD (semi-knock-down) form. The adventure does not last long: in May 1963, the production comes to a halt after a scandal caused by the preferential import duties granted to the company, and furthermore due to the disastrous racket organized by the military who have grabbed the helm of Korea, and which Saenara is the victim of. Production during these short months amounts to less than 2,800 cars.
Saenara Bluebird
The Korean version of the Bluebird is based on the P312, with its larger 1.2-litre engine. It is a popular car among taxi operators.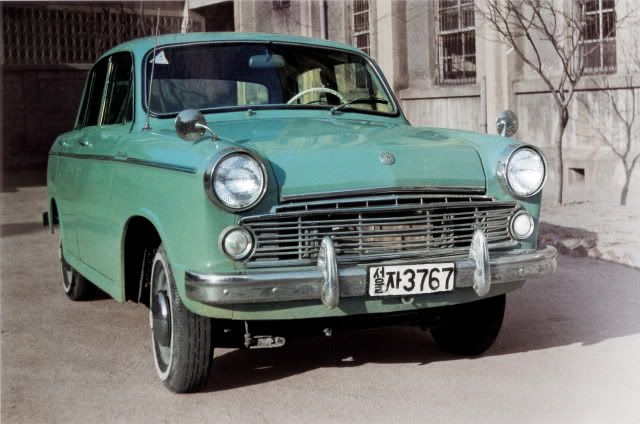 ● Introduction: November 1962. Construction: body on separate chassis. Engine: water-cooled inline four, 1.2-litre, 55 hp, mounted at the front. Transmission: to the rear wheels through a three-speed manual gearbox. Suspension: independent at the front, rigid axle at the rear. Brakes: hydraulic, to drums on all four wheels. Length: 392 cm. Top speed: 125 kph. Range: four-door sedan.
Any mistake you've just spotted? A detail to add? A suggestion? Don't hesitate to leave a comment!
Click here to return to a list of all
Saenara
vehicles presented on this blog.
Click here to return to this blog's
initial post
, featuring a list of all vehicles already presented.