During September 1952, Kaiser announces the project of a light two-seater sports car fitted with a fibreglass body. First prototypes are exhibited from February 1953, but no production starts during this model year. Easily recognizable as another brainchild of designer Howard "Dutch" Darrin, the KF-161 prototype features radical ideas, such as doors that slide forward into the long front wings. Provided by Willys, its engine is a specially modified L-head six fed by three carburettors.
Kaiser KF-161 Darrin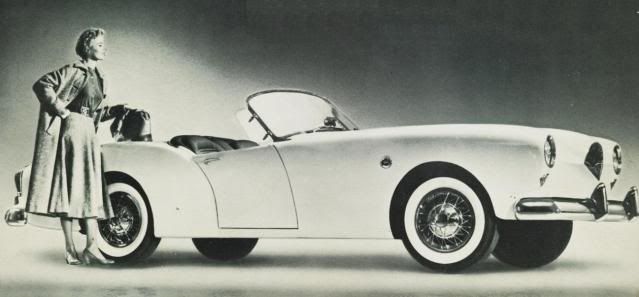 ● Introduction: February 1953 as a prototype. Construction: fibreglass body on separate chassis. Engine: water-cooled inline six, 2.6-litre, 100 hp, mounted at the front. Transmission: to the rear wheels through a four-speed manual gearbox. Suspension: independent at the front, rigid axle at the rear. Brakes: hydraulic, to drums on all four wheels. Length: 465 cm. Top speed: n/a. Range: two-door sports convertible.
Any mistake you've just spotted? A detail to add? A suggestion? Don't hesitate to leave a comment!
Click to jump to another model year of the same car:
1953
–
1954
–
1955
Click here to return to a list of all
Kaiser
vehicles presented on this blog.
Click here to return to this blog's
initial post
, featuring a list of all vehicles already presented.