The limited production of the ageing Carabela, based on the discontinued Kaiser Manhattan, now meets its end. An increased choice of automobiles on the local market, and problems to maintain the old dies sent from the United States motivates the suspension of the production after 1962. IKA has considered face-lifting the car, even receiving two projects from the original designer of the Manhattan, Howard "Dutch" Darrin, but has finally dropped these plans as retooling would have been too costly. Instead, IKA has signed an agreement with American Motors to produce its Rambler in Argentina as a replacement for the Carabela.
IKA Carabela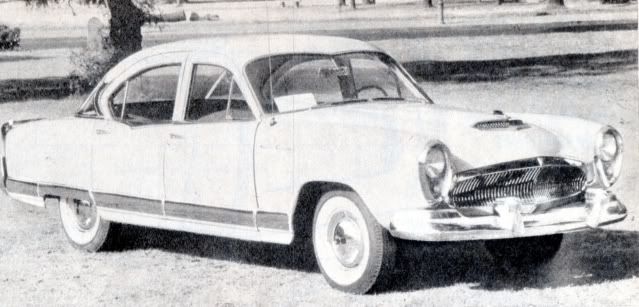 ● Introduction: February 1950 as the American-built Kaiser, July 1958 as the Argentinean IKA. Construction: body on separate chassis. Engine: water-cooled supercharged inline six, 3.7-litre, 116 hp, mounted at the front. Transmission: to the rear wheels through a three-speed manual gearbox. Two-speed automatic gearbox optional. Suspension: independent at the front, rigid axle at the rear. Brakes: hydraulic, to drums on all four wheels. Length: 548 cm. Top speed: 140 kph. Range: four-door sedan.
Any mistake you've just spotted? A detail to add? A suggestion? Don't hesitate to leave a comment!
Click to jump to another model year of the same car:
1959
–
1960
–
1961
–
1962
Click here to return to a list of all
IKA
vehicles presented on this blog.
Click here to return to this blog's
initial post
, featuring a list of all vehicles already presented.