Chevrolet already has a "different" offer with the Corvette. Its rival Ford could not stay idle, but its new car marks a totally different approach than the Chevrolet sports car. More aptly classified as a "personal luxury car", the Thunderbird is remarkably Ford-like in appearance, but is low and sleek, with only two seats covered by a removable hardtop. Standard equipment is quite limited, but the option list is long, while performance is adequate thanks to a larger V-8 than the standard Fords, fed with a four-barrel Holley carburettor.
Ford Thunderbird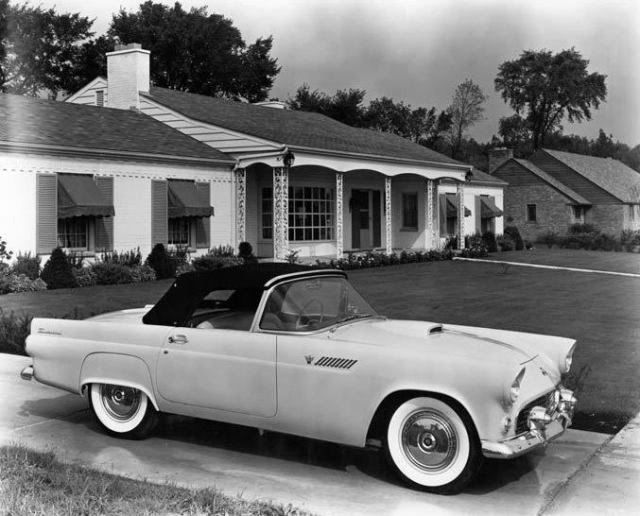 ● Introduction:
October
1954. Construction: body on separate chassis. Engine: water-cooled V-8, 4.8-litre, 193 hp (manual) or 198 hp (automatic), mounted at the front. Transmission: to the rear wheels through a three-speed manual gearbox. Three-speed automatic gearbox optional. Suspension: independent at the front, rigid axle at the rear. Brakes: hydraulic, to drums on all four wheels. Servo optional. Length: 445 cm. Top speed: 170 kph. Range: two-door convertible coupe. Note: a removable fibreglass hardtop is provided as standard equipment. Conventional foldable fabric top is optional.
Any mistake you've just spotted? A detail to add? A suggestion? Don't hesitate to leave a comment!
Click to jump to another model year of the same car:
1955
–
1956
– 1957
Click here to return to a list of all
Ford U.S.
vehicles presented on this blog.
Click here to return to this blog's
initial post
, featuring a list of all vehicles already presented.