In late 2003, Mercury returns to the minivan field with the Monterey, a rebadged Ford Freestar.
Mercury Monterey
Since Mercury retired its Villager in 2002, no minivan was part of the manufacturer's line-up. The company now seizes the opportunity to replace it as Ford unveils the Freestar, successor of the successful Windstar. Inheriting the famous name Monterey in Mercury's guise, the new minivan is an upscale version of the Freestar, both being built in Ford's Canadian factory in Oakville. The two vehicles are virtually identical, apart from a slightly different grille and the larger engine fitted as standard in the Monterey.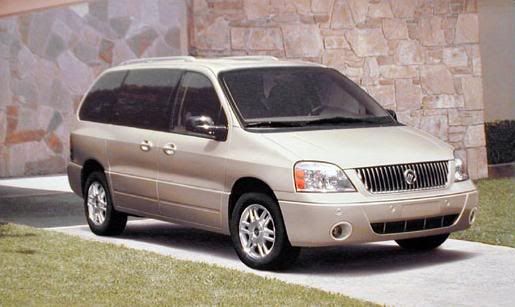 ● Introduction: 2003. Construction: unibody. Engine: water-cooled V-6, 4.2-litre, 201 hp, mounted at the front. Transmission: to the front wheels through a four-speed automatic gearbox. Suspension: independent at the front, semi-independent at the rear. Brakes: hydraulic, to disks on all four wheels, with servo. Length: 512 cm. Top speed: n/a. Range: four-door minivan.

Any mistake you've just spotted? A detail to add? A suggestion? Don't hesitate to leave a comment!
Click to jump to another model year of the same car:
2004 – 2005 – 2006 – 2007
Click here to return to a list of all
Mercury
vehicles presented on this blog.
Click here to return to this blog's
initial post
, featuring a list of all brands already presented.