The efforts made to update the 1962 Hawk cannot be renewed every year for cash-stranded Studebaker. Hence, this year's car is unchanged, apart from some minor trim alterations. Still, some mechanical improvements taken from the new Avanti are offered as options: power brakes and "R1" (240 hp) and supercharged "R2" (289 hp) engines are the most important among them.
Studebaker Gran Turismo Hawk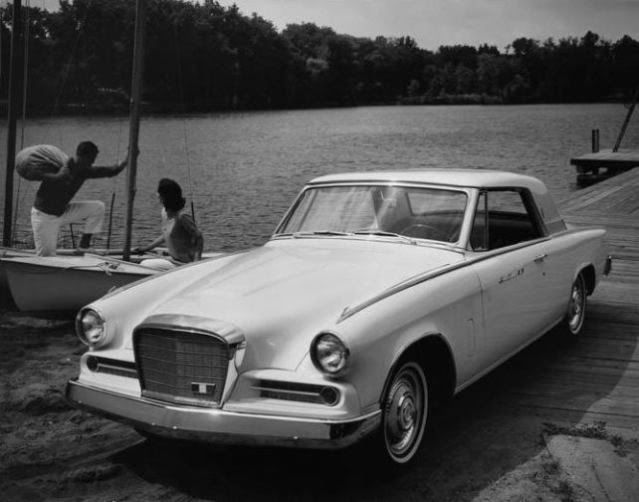 ● Introduction: 1952 for the original full-size Studebaker, 1955 for the Hawk. Construction: body on separate chassis. Engine: water-cooled V-8, 4.2-litre, 180 hp, mounted at the front. Optional engines: V-8, 4.2-litre, 195 hp; V-8, 4.7-litre, 210 hp; V-8, 4.7-litre, 225 hp; V-8, 4.7-litre, 240 hp; and supercharged V-8, 4.7-litre, 289 hp. Export: an inline six, 2.8-litre, 112 hp is also available. Transmission: to the rear wheels through a three-speed manual gearbox. Four-speed manual transmission (V-8 only) and three-speed automatic gearbox optional. Suspension: independent at the front, rigid axle at the rear. Brakes: hydraulic, to drums on all four wheels. Servo optional. Discs on front wheels, drums on rear wheels optional. Length: 518 cm. Top speed: n/a. Range: two-door hardtop coupe.
Any mistake you've just spotted? A detail to add? A suggestion? Don't hesitate to leave a comment!
Click to jump to another model year of the same car:
1956
– 1957
– 1958
– 1959
– 1960
– 1961
– 1962
– 1963
– 1964
Click here to return to a list of all
Studebaker
vehicles presented on this blog.
Click here to return to this blog's
initial post
, featuring a list of all vehicles already presented.