The ambition of designing a car that would prove a real success on the international stage has brought DAF to introduce a larger and more modern automobile than its Daffodil. Still, this new 44 closely follows the lines of its predecessor. It obviously retains the exclusive Variomatic transmission, the all-independent suspension and a version with enlarged stroke of its flat-two. In spite of being an all-new design by Giovanni Michelotti, the 44's body also retains a silhouette similar to the Daffodil's. Only available as a saloon, at least for the time being, the 44 is produced by DAF's brand new Born factory, built with financial help from the Dutch government in return for a share in DAF's capital.
DAF 44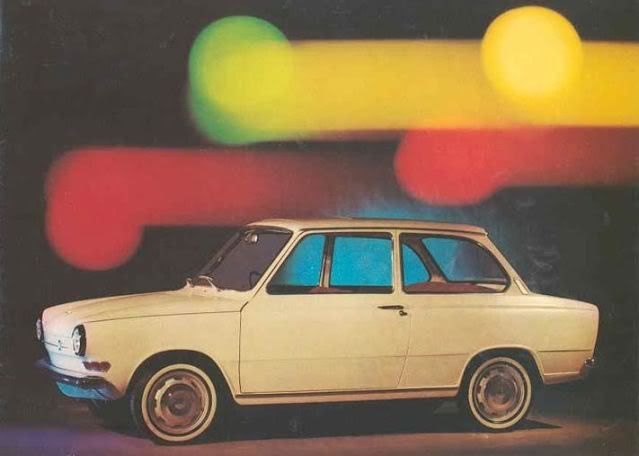 ● Introduction: September 1966. Construction: unibody. Engine: air-cooled flat two, 0.85-litre, 40 hp, mounted at the front. Transmission: to the rear wheels through a continuous variable-speed gearbox. Suspension: independent on all four wheels. Brakes: hydraulic, to drums on all four wheels. Length: 385 cm. Top speed: 125 kph. Range: two-door "Luxe" saloon.
Any mistake you've just spotted? A detail to add? A suggestion? Don't hesitate to leave a comment!
Click to jump to another model year of the same car:
1967
–
1968
– 1969
– 1970
– 1971
– 1972
– 1973
– 1974
– 1975
– 1976
– 1977
Click here to return to a list of all
DAF
vehicles presented on this blog.
Click here to return to this blog's
initial post
, featuring a list of all vehicles already presented.