After spending several years building trucks, the Van Doorne brothers finally get the popular car they dreamed of: a little four-seater with an automatic transmission. Unlike the torque converter devices seen on American automobiles, the DAF car uses an ingenious system of centrifugal clutch, rubber belts and pulleys called "Variomatic". Changes of pulleys are not controlled by the driver, but are automatically adjusted by changes in inlet manifold pressure: concretely, the gear is chosen among almost infinite possibilities depending on the amount of pressure exerted on the gas pedal. All a DAF driver has to do is to chose between forward and rearward gears, the gearbox selecting the most appropriate transmission settings.
DAF 600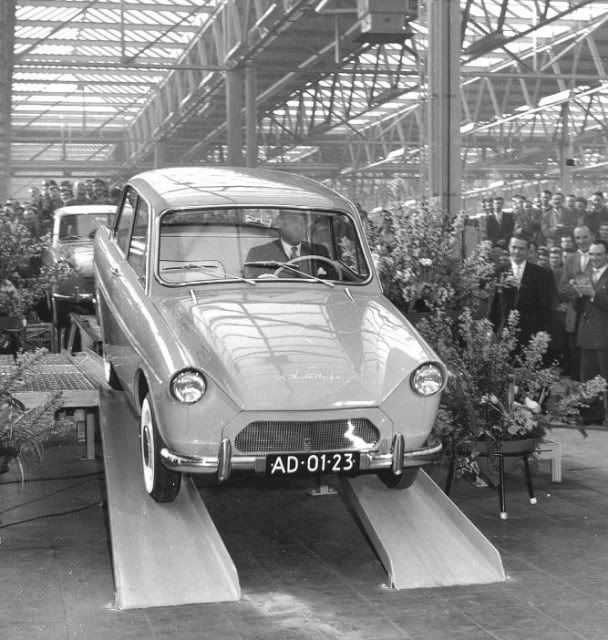 ● Introduction: February 1958. Construction: unibody. Engine: air-cooled flat two, 0.6-litre, 22 hp, mounted at the front. Transmission: to the rear wheels through a continuous variable-speed gearbox. Suspension: independent on all four wheels. Brakes: hydraulic, to drums on all four wheels. Length: 361 cm. Top speed: 90 kph. Range: two-door saloon.
Any mistake you've just spotted? A detail to add? A suggestion? Don't hesitate to leave a comment!
Click to jump to another model year of the same car:
1958
–
1959
– 1960
– 1961
– 1962
– 1963
– 1964
– 1965
– 1966
– 1967
– 1968
– 1969
– 1970
– 1971
– 1972
– 1973
– 1974
Click here to return to a list of all
DAF
vehicles presented on this blog.
Click here to return to this blog's
initial post
, featuring a list of all vehicles already presented.