The base model in DAF's range is still this 33, an updated version of its original 600, introduced in 1958. Since then, engine has been enlarged and body modified in steps, but the Variomatic transmission that sets the DAF apart has remained the same throughout the years. Nineteen seventy models can be identified thanks to the series name being spelled on the left side on their front end.
DAF 33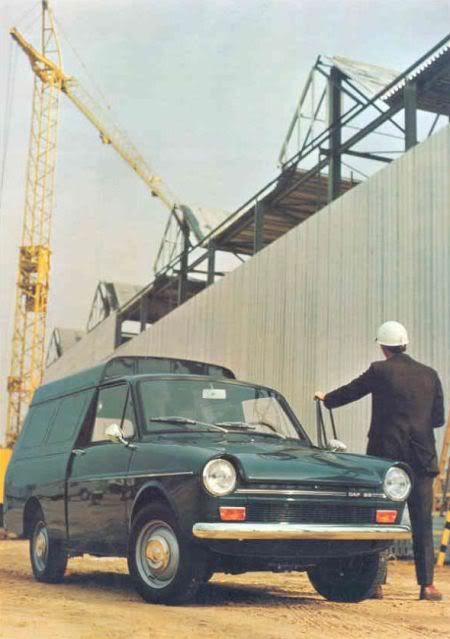 ● Introduction: February 1958 as the original 600, 1967 as the updated 33. Construction: unibody. Engine: air-cooled flat two, 0.75-litre, 32 hp, mounted at the front. Transmission: to the rear wheels through a continuous variable-speed gearbox. Suspension: independent on all four wheels. Brakes: hydraulic, to drums on all four wheels. Length: 361 cm. Top speed: 110 kph. Range: two-door "Comfort" saloon, two-door "Luxe" saloon, two-door "Combi" estate, two-door "Bestel" panel van, two-door pickup.
Any mistake you've just spotted? A detail to add? A suggestion? Don't hesitate to leave a comment!
Click to jump to another model year of the same car:
1958
–
1959
– 1960
– 1961
– 1962
– 1963
– 1964
– 1965
– 1966
– 1967
– 1968
– 1969
– 1970
– 1971
– 1972
– 1973
– 1974
Click here to return to a list of all
DAF
vehicles presented on this blog.
Click here to return to this blog's
initial post
, featuring a list of all vehicles already presented.